These trendy Lazy Sneaker Clips are so good, it's just a matter of time when they become an industry standard. 
These provide you with the fastest and easiest way to get in and out of your sneakers, and for sure the most stylish way of wearing them.  No tying, no knots, no sloppy tying jobs, no laces coming undone.
Just a super clean look.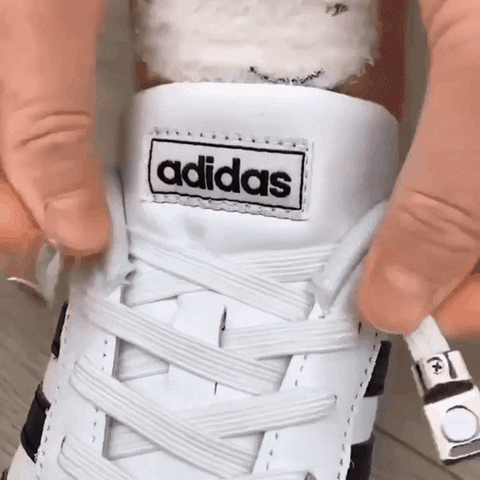 Super strong neodium magnets
Your shoes laces will be secured with strongest magnetic clips in the game. You can run, jump, or play sports without thinking about you laces coming undone. 
The tension of the shoe laces is resting on the metal notch, the magnets are just securing the magnetic clip angle - so it does not open up. 
Elastic laces
Elastic shoe laces conform to your foot for something like a molded fit. That way it reduces pressure points so there will be no more hotspots. Definitely a great shoe lace replacement.
Foreverlasting
Magnets work forever, and the rest of the clips are metal, so no worries, you're set for an eternity.. 
How do they work?

Pull through your favorite shoelaces, or buy our elastic ones. When you set them up, the way you prefer it, with your foot in the sneaker, just before tying - take of the narrow point end of your laces with scissors, shorten them just enough so they can touch across your sneaker, and put on the clips on the ends. You might need to do some fine tuning later, but it's better to leave the shoe laces longer, just in case, because you can't grow them back. After you do the final adjustment when you pull the clips together, they will close and your laces won't come undone. 
When the magnets are separated it's as if you have no knots at all, just easily slide into a wide open shoe. Then, just close the magnets and your all set. 

Who is it meant for?

Everybody! But, these shoelace clips are also the perfect solution for kids, elderly people, as well as disabled people, it will help them go out and about a bit easier. 
We have lots of shoe lace color variants, and you can also buy Lazy Sneaker Clips separately, without laces. Go get these and forget about tying your laces!

Shipping is free worldwide, no additional costs included in the shown price